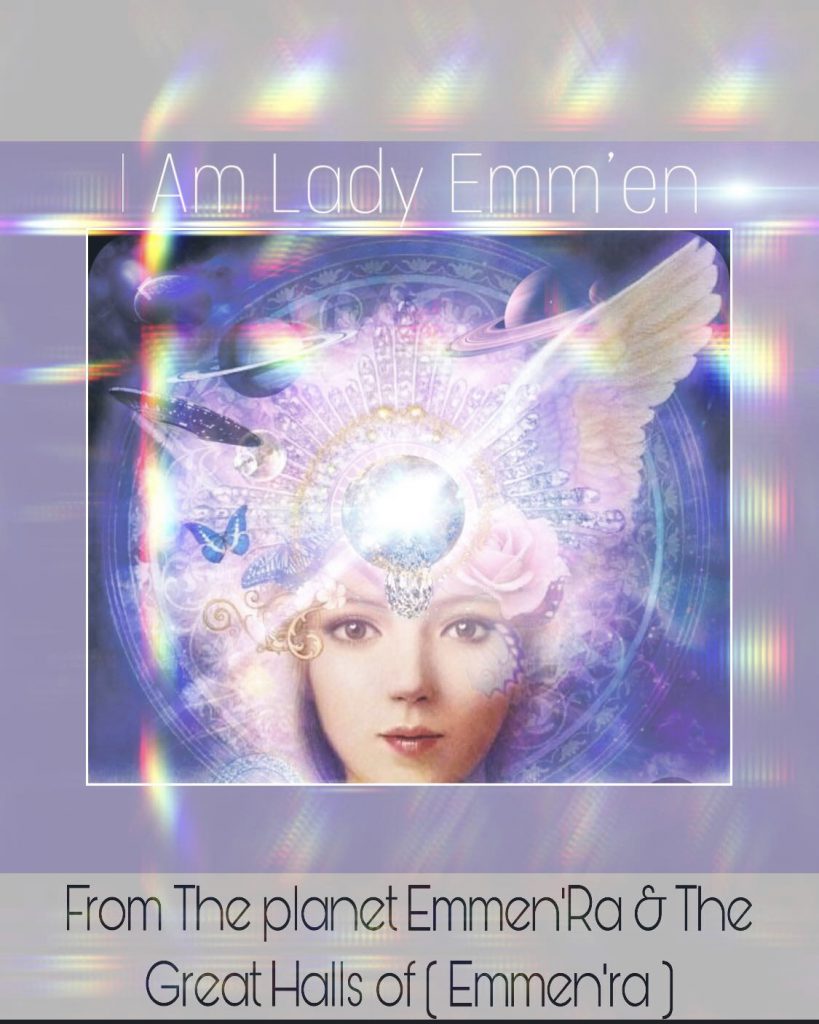 Wonderful Soul Family ❣️ This 11:11 Mercury transit is a Crucial equinox in our Now ..
In my meditation I was guided , To projected My consciousness…
To The planet ( Emm'en'ra )
Emm'enra 'is the third planet of a Solar system with 16 planets that orbits a binary star ? ? ?
In the ( Andromeda Galaxy )
And it is the Hub Council or Headquarters working along side The Order of Melchizedek And Galactic Super federation of worlds / Light 
Operating In that quadrant sector of space within the Andromeda Galaxy…
I was shown :
The Great Halls of ( Emmen'ra ) with it's silver & white city's of light
The emblem of Emmen'Ra Is the ( Silver ray of transcendence )
AA Gabriel is the Overseer Arc Angel/ Ultra terrestrial … Of Emmen'ra …
And I met … The Soul of The planet her name she told me was ( Lady Emm'en ) she is also in a physical Multidimensional form ( she is a solar being ..
7th Dimensional silver Solar being ..
Her eyes were like diamonds ?… she is tall with a silver/ Dimond Jewel or crystal in her third eye inbedded in her third eye… she was in white & silver gown …. she holds the Isis Ra light within her Soul essence..
Also lady Emm'en is the higherself or higher Aspect of Mira from the pleiadian council …… Part of the Ra collective ….
The Great halls of Emmen'ra is a vast an auditorium with silver seats everywhere , And white silver tables , also there are seats up into the walls like a theatre 'for example they looked like box seats in a theatre, and you can look down into the Great Hall …
You can sit & look down at the great crystal in the middle of the room , and you can walk around the crystal silver tables , They are huge and all flow around this Centre core crystal …
This huge core crystal in the middle of the Hall , acts as a conductor , the light of the binary star system comes down into this great Krystal ….it's a silver light… from the binary star & and AA Gabriels Essence is everyware …
Planet Emmen'ra works with the Silver Ray .. of transcendence…
The planet mercury in our Solar system is in full resurrection..and transcendence through this Silver Ray, and with Lady Emm'en and the strong 7D Silver Light flowing from Emmen'Ra… Andromeda' is flowing into our planetary mother and our Ascension.
Lady Emmen'ra message to the StarSeads is ….
To See the Silver Ray bathe the Earth field on the 11:11 ….see the intention be infused with the Highest Vibration of the Silver Flame …with the energy of Transcendence and Freedom on the 11:11 Mercury transit …
See the Silvery Ray bathe all the lay lines and remove negative distortions through this mercury transit … on the 11:11 and into the Full moon in Taurus on the 12th…
If you feel guided to Connect with Lady Emm'en , She would love to connect with her Earth family ❣️
Sending many blessings dear family of light ❣️
Lady Emmen'ra & Ria Aurora Athena Ash'Tar'Ka'ree ❣️